Simplify

&

centralize

your banner ad project workflow

Review, discuss, approve and deliver animated HTML banner ads and social ads on our simple banner ad review platform. Perfect for advertising agencies and freelance banner ad developers.
Give it a try for 30 days
Free Trial
No credit card required
Reclaim your sanity
Upgrade to a smarter way of managing your banner ad projects
Be the hero of your ad agency team by consolidating all your banner ad project activity onto one platform. Olavana saves so much frustration and time, your team will be thanking you for improving their projects, their days, and well, literally their entire lives (no exaggeration).
Do you want to
stop using 8 different tools
to manage 1 banner project? Would you like to gather all communication, files, mockups, functioning HTML ads, to-do's and deliverables in one place?
It's time to stop wasting time
Your team will
save hours on every project
. Think of how much time you'll save by not sifting through those 1000-line email threads over and over again.
Like a cheetah, but for banners
Olavana was designed with simplicity, efficiency and speed in mind. It has all the
feaures you need, and none that you don't
. A few clicks and you've kicked off your new banner project.
Eliminate confusion and ambiguity
around client feedback by using tagging tools that make it so clear even a
<insert your least favorite ad agency or client role here>
would understand.
It was right here a minute ago
Stop searching for client feedback
in long, drawn out email threads. Assign and manage tasks for your designer, animator or that forgetful intern with our integrated task management tools.
Your genius campaigns are safe
Not to worry... all your
ads are private
unless you expose a review page with a public link. Keep that blockbuster campaign idea and killer creative safe from prying eyes until you're ready to show the world.
Digital marketing agencies and ad agencies
: strengthen your hard-earned relationship with your clients by reviewing on our simple, solid platform.
Freelance banner animators
: your agency clients will beg you to take on future banner projects after seeing your work professionally presented on Olavana.
Using Olavana with your whole team is
a piece of cake
. As easy as pie. Like taking candy from a baby. Super easy to swallow and as sweet as honey. Sorry, we'll stop now.
The Nitty Gritty
One Tool Done Right
No fluff or distractions, just the features you need to run an efficient HTML banner ad project and reach banner bliss.
At Solarsilk, we've been building banners with global ad agencies for 15+ years. Along the way we've developed a solid project process. We want to share it with our lovely worldwide ad agency community and help us all avoid a lot of the pain we know all too well.
3 project phases

Design, build and deliver. All managed on one simple platform. Sounds good so far, right?

Itemized feedback

While reviewing, assign a specific request to a team member. Track the status of each piece of feedback independently so you'll never miss a thing.

Comments, please

Separate comment threads for internal and client discussions. And comment on specific tasks to keep everything super tight and organized.

Versioning

Time travel to see older versions of the ad, each with their own version number for easy referencing.

What's the status?

Mark each unit as approved individually. Clearly see which units are still under review and which are approved.

Download here

One place where any team member can grab the final files.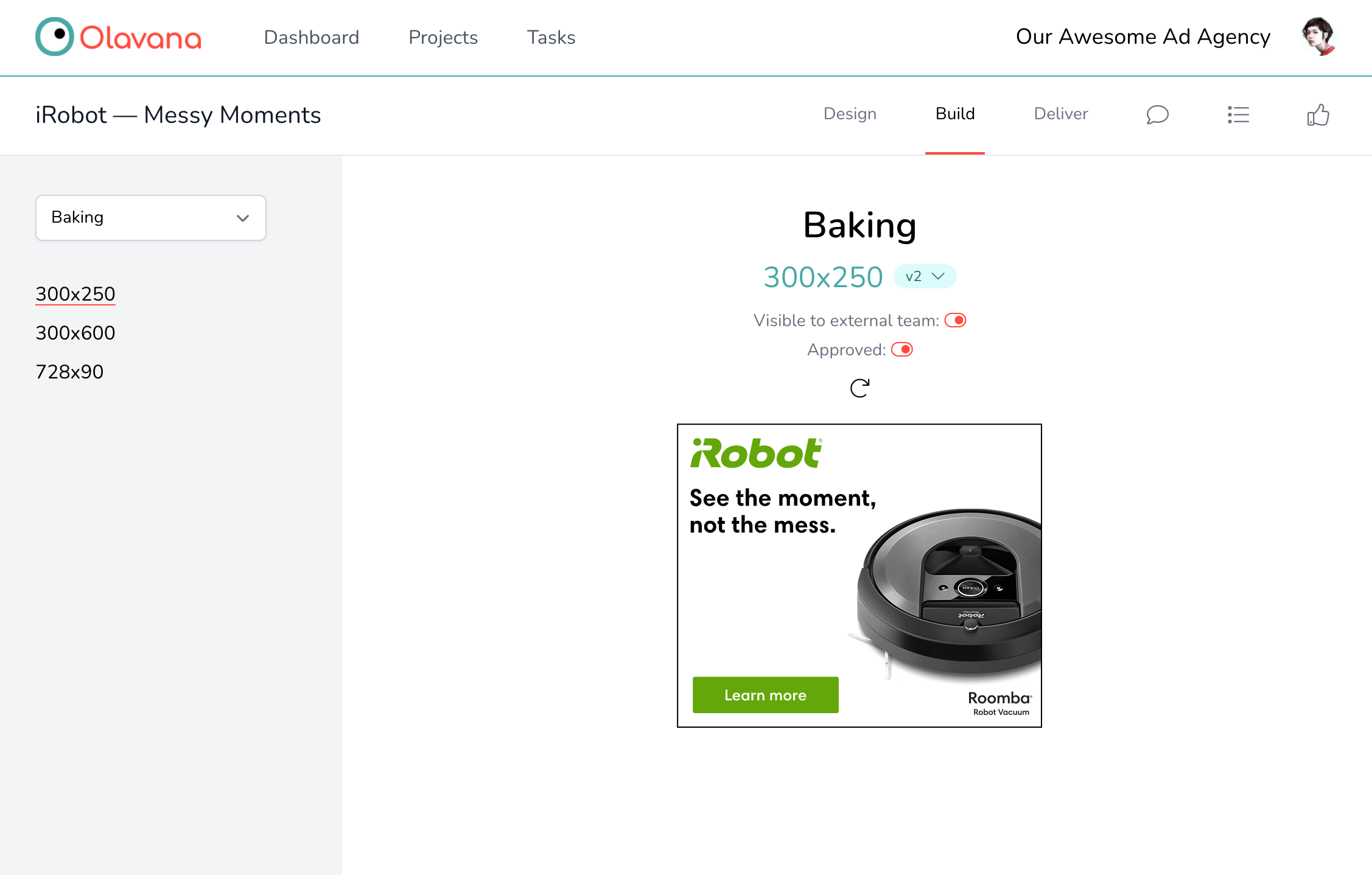 We feel your pain
At Solarsilk, we've built hundreds, no, thousands (millions?!) of banner units over the years. We've seen many different approaches to running banner projects with our many ad agency clients. But none of them really hit the mark. Your pain is our pain. We've been there.
After 15+ years of using clunky, disconnected agency workflows using tools not at all fit for the job, we got tired of popping the heachache pills. So we built a software tool that's designed specifically for HTML banner ad projects. Not only will Olavana make your work life waaaay better, it might even improve your golf swing, your cooking skills and make you an inch taller.
And by the way, if you need a super experienced team to build your banner ads, check us out.